Be it a startup, or a giant company, businesses across the globe are searching for reducing operational and management costs. That is why they often outsource their software development. Some of them even have their in-house engineering teams but are looking to add fresh talents or missing expertise with minimal cost and time spent on recruitment and training. At this point, we can talk about staff augmentation strategy of outsourcing.
What is staff augmentation?
As a brand new model of outsourcing, staff augmentation suggests that the customer adds new members to his already existing development team. The fundamental peculiarity of this strategy is the fact that the development team member is recruited and taught exclusively by the service provider.
Staff augmentation may be an ideal option for those client companies who are looking for reducing expenses on staff recruitment as well as speeding up this process
Another obvious benefit is the fact that a client company gets rapid access to experts skilled in required technologies abroad if they are not available locally or hiring those takes a lot of time and effort.
Prior to hiring a third-party developer, the vendor should analyze his current capacities and determine which additional technical skills the in-house team needs. This model of cooperation might be a perfect fit for startups and small businesses in terms of price and speed of delivery. However, ensure you are aware of possible minuses too.
Weigh pros & cons of staff augmentation
As an augmented team member is hired by the software development provider, staff augmentation reduces expenditures on recruitment, development, and maintenance. Other benefits of the staff augmentation model are obvious too:
The model removes recruitment and legal burden from the client.
With an extended team the development process becomes faster.
The right expertise is accessed at a reasonable price.
You have direct control over the development process.
Although the staff augmentation model has a lot of advantages, it is not a panacea
Be sure to know the drawbacks of this model.
Due to the fact that clients get new staff members from an outside service provider, there are potential quality risks.
If there are some flaws in the company's internal processes, the new employees will also be affected.
It can take some time to find the right staff augmentation agency to work with.
By the way, explore how to find a decent development partner in our previous article.
When to augment your team?
Staff augmentation may be an option in a great variety of scenarios. Here are the most typical ones:
A company may need to add new team members when the company wants to save up on the recruiting, training, and staff management.
When a company launches a new project and its employees are working overtime. In this respect, you may need to create a new staff to work on your project for an extended period of time.
Another case is when a large project requires talents with specialized knowledge, which in-house employees do not have.
When a product is at a final stage of its development and the product team recommends a company to hire new temporary employees who will test the product before its rollout.
How staff augmentation differs from other models?
Staff augmentation opens one-of-a-kind opportunities for businesses. Unlike the other engagement models, staff augmentation could evolve into managed services or project outsourcing depending on desired ownership level.
Before making a choice about the cooperation model, you need to consider all the possible scenarios to know which type of engagement (staff augmentation, managed services or project outsourcing) fits your project best. Be aware that the model you choose now will have a significant impact on the success of your project in the future.
Prior to making a decision about what model to choose, you should decide what level of responsibility for recruitment, management, and the very project you want to have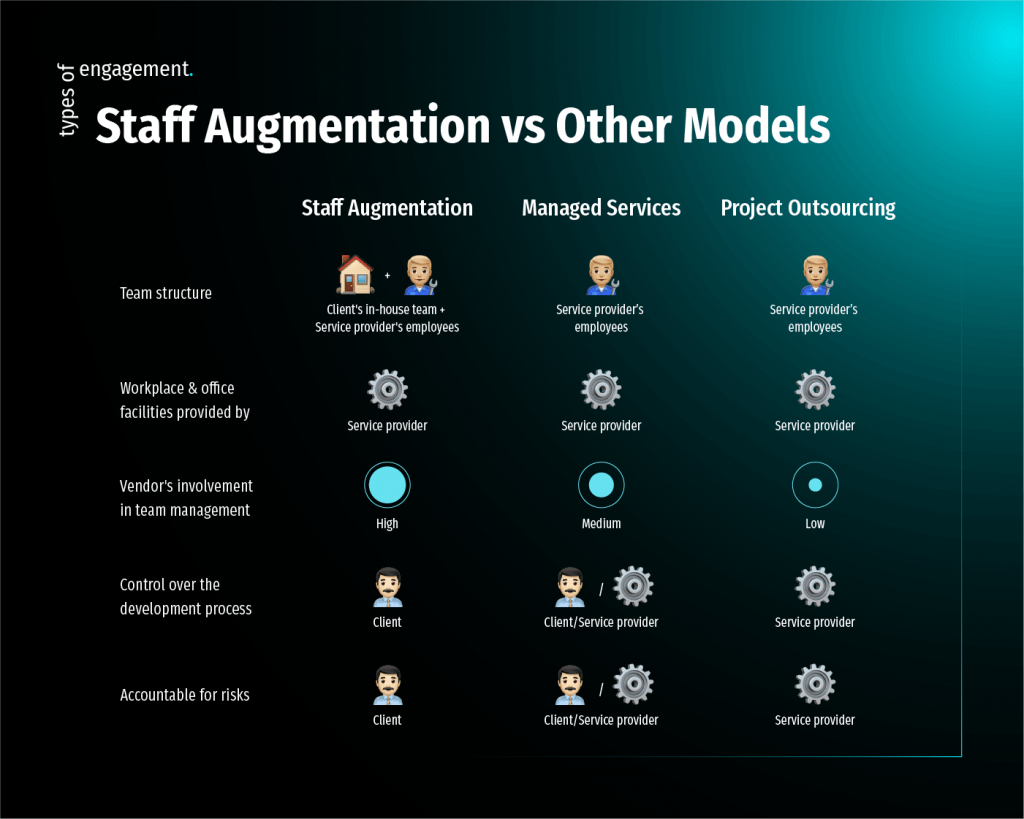 Managed (consulting) services
The managed services model presupposes that the client company outsources on the proactive basis not only the actual development but delegates the control over the whole project including cost and risk management, support, maintenance, reports, and control of the main business factors that can affect the project's success.
Like other models of IT services provision, the managed services model has its advantages and disadvantages. Let's start with benefits, which this model brings to you:
Managed services are time-saving for the client company.
With financial simplicity that this model offers, the client pays the vendor for only a preliminary formed complex of services. Thus, it almost eliminates the possibility of any unforeseen costs.
The client company delegates all the management responsibilities to the vendor.
The disadvantages of managed services are somewhat similar to those of IT staff augmentation:
Very often, it is extremely difficult for clients to find highly skilled employees at a reasonable cost. Finally, with this model, the responsibility for any project failures lies on the client company.
The managed services model presupposes some loss of flexibility due to the fact that many managed services providers have the same approach to all their clients.
Project outsourcing
This type of engagement has become rather a popular model of software development in recent years. The main difference between project outsourcing and IT staff augmentation lies in the scope of control over the project possessed by the client company.
While with staff augmentation model, the customer possesses direct control over the team, with the outsourcing model, a customer delegates all his management responsibilities to the IT services providers
The second factor that makes a distinction between this model and staff augmentation is that, in the case of outsourcing, the service provider recruits, trains and manages the development team, which works on your project separately from your company. With staff augmentation, the development team or individual employees work on a project alongside your in-house team.
Project outsourcing has its undoubtful benefits and drawbacks. Like previous models, it reduces expenses on staff recruitment. The second obvious benefit of the project outsourcing model is providing an access to great talent pool that is not available locally. Finally, project outsourcing allows management of the client company to offload its in-house employees.
Project outsourcing has two major disadvantages: the lack of direct managerial control over the development team and the risk of having quality issues
Conclusion
Although staff augmentation opens a lot of opportunities for your company, you have to consider other models before you make a final decision.

Nevertheless, if you want to bring fresh knowledge and talents to your internal team, if you want to save time and costs spent on training and recruitment as well as reduce the administration burden, staff augmentation will be the most suitable option for you.