Last week our CEO Nelia Kovbasa participated as a speaker in an Infoshare conference – one of the biggest online tech events in Central and Eastern Europe. Being among marketing experts, developers and other IT leaders, Nelia Kovbasa shared valuable information about the evolution of eCommerce. Together with the audience, Nelia Kovbasa discussed how COVID-19, economic recession, Big Data and design trends will change the game of retail and e-commerce businesses in 2021.
We got great feedback from event participants and we understood that this speech cannot be just forgotten after the conference. As a result, we want to share with you a key thesis from our CEO's speech at Infoshare below!
Let's start from the beginning. While the whole business world is suffering from an economic crisis, Amazon is suddenly suffering from sales overload that's hard to deliver.
For most consumers, the events of 2020 make a huge shift in buying habits. For most businesses making sales online is a life or death matter. If your business is the case, here are the e-commerce trends for the upcoming year based on what we already know:
Consumption change.
Restaurant, travel, and luxury product sales are up to decrease. Healthcare, FMGC, online services, and everyday product sales – increase significantly. Mainly because people stay at home and load up to make it through the lockdown.
E-commerce will grow.
During the 2003 SARS epidemic, China faced serious limitations in traditional sales. It pushed the digitization process. Chinese Alibaba grew 50%. Taobao has become the #1 e-commerce platform in the world. Ever since then e-commerce continued growing. COVID-19 pandemic limits offline sales much more and we expect continuous e-commerce expansion to move even faster.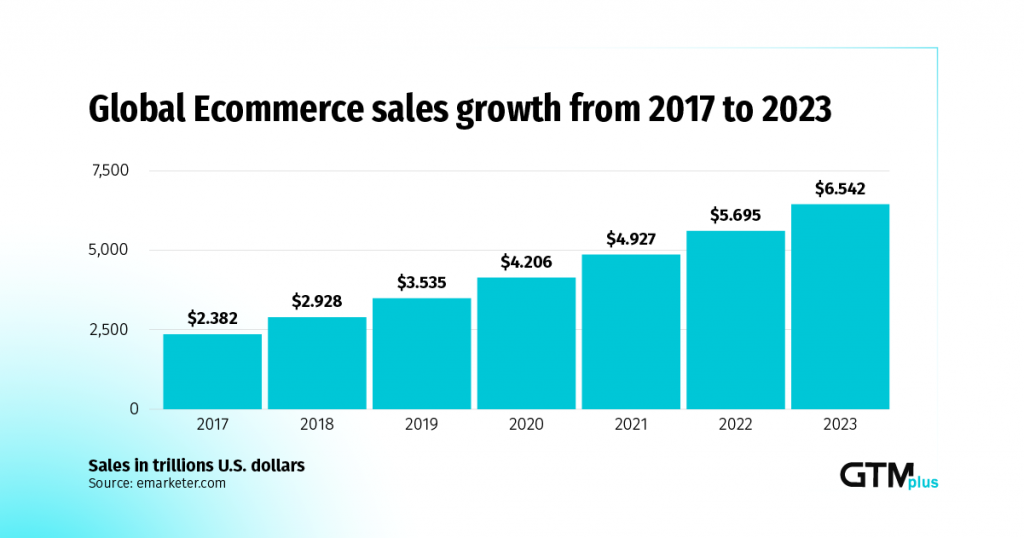 More expensive advertising.
In March, advertisers started noticing an increase in online ad costs. This will require more professional and personalized marketing campaigns.
Smart Marketing.
Chatbots, email marketing, lookalike audiences, remarketing and social media will continue to be e-commerce's best friends. They will become more effective with advanced big data data analysis, personalized experiences, and optimized ad costs.
Design focus.
Based on sites from freshly popular industries like CBD and updated big players' websites: Simplified,minimalist designs that eliminate distractions and make the consumer focus on the product will become a trend in e-commerce design.
Delivery comfort.
Flexible shipping options will attract and make clients loyal in this period of time. Affordable international shipping (especially within closely located country areas line European Union, Scandinavian countries, and North America) and immediate local delivery will win the hearts and wallets of the buyers who will get comfortable with purchasing products online.
Reduced cost of entry.
Entering e-commerce businesses will be faster and more affordable. Website development companies also go through the crisis and will rebuild their teams to deliver workable e-commerce sites fast. Pricing and timeline would cut. As an example, GTM Plus announced they'd start developing e-commerce websites at 2k within 1 week. Many others will follow.
Offline to online transitions.
Products traditionally sold offline will now sell online. Many business owners will be forced to move online to save their companies. Others will see it as an opportunity during the crisis. Whatever the case, it'll be the best way to reach the customers. E-commerce businesses (such as Shopify companies) will have a lot of work with helping retail stores to go online.
From giant marketplaces to light single-brand online stores.
To maintain their marketing, huge e-commerce platforms will need more commission from sellers. And the marketplace platforms will get too competitive to make enough sales. Single mono-brand niche online stores will get more popular giving small and mid-size businesses a second breath.
Online sales after the lockdown.
Many people will become first-time online buyers in 2020. Some will get more used to it. Both audiences will have a significant percentage of those who'll stick with e-commerce buying after things get back to normal.
As a summary here are the key takeaways:
E-commerce isn't a short-term spike of profit. It's here for the long run and people will continue buying online more.

Developing an online shop will get more affordable;

Huge marketplaces will open the way to smaller mono-brand online stores;

Online shopping will get more personalized and automated at the same time;

Small mainly offline businesses still can catch the wave.
While these are the e-commerce trends we can foresee based on the data we already have, 2020 and 2021 seems to have planned a lot of transformation for the world. New technologies and approaches always emerge during the crisis (what a good time 2007-2009 was for iPhones to revolutionize everything?). Will AR/VR and face recognition affect the way people shop online? Will people start saving money, or start consuming even more once it's over? What businesses will become Top eCommerce Development Company in 2021?
No one knows yet, but there will surely be a place for movement. After all, there won't be more or less money. The crisis is just a transition from ineffective owners to effective ones.